Seth Baird, OTA/L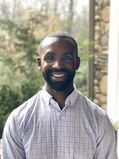 Seth joined The Ivey in January 2022 as Senior Fitness Specialist and Wellness Coach.  After graduating from Cabarrus College of Health Sciences, he joined Genesis Rehab Therapy as an Occupational Therapy Assistant. He is an ACE-Certified Senior Fitness Specialist and Brain Health Trainer. Since Fall of 2016, Seth worked with members of The Ivey through our partnership with Genesis. In his full time role with The Ivey, he develops and leads specialized and robust exercise programs concentrating on overall fitness and dual-tasking skills.  His programming utilizes traditional fitness methods and SMARTfit technology.  
Where were you born and where did you grow up? Born in Atlanta, I was adopted at ten weeks old, and moved to Durham, NC. I spent my young adult years bouncing around the Carolinas before finally taking up roots in Charlotte in 2015.
Favorite way to spend a weekend or a Sunday afternoon? I'm at my best when I'm able to spend time outdoors. Running, hiking, or water sports with family and friends fills most weekends, with an occasional lazy Sunday afternoon on the couch to recharge.
What excites you about your work at The Ivey and the contribution you make here? I've worked with the geriatric population, in the therapeutic setting, since 2016. During this time, I've been fortunate enough to connect with many wonderful people from all walks of life. Listening to their stories and advice while helping them maintain the highest level of independence is what makes The Ivey such a great place to work. I look forward to continuing this work at The Ivey by providing skilled intervention to help support members and families as their loved one's transition into the later stages of life.