Carey Barnett, MHA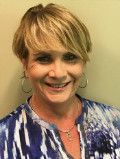 Carey has a bachelor's degree in human services from Wingate University and master's degree in health administration from Queens University. Prior to The Ivey, she had a 14-year career in banking.
Where were you born and where did you grow up? I was born in Winter Park, Fla., and grew up in Central Florida.
Favorite way to spend a weekend or a Sunday afternoon? Right now, I spend my weekend studying!
What excites you about your work at The Ivey and the contribution you make here? I love what I do. I love giving and receiving hugs and watching our members' faces light up. The Ivey is a unique place to work – everyone is here because they want to be here. No one sees it as a job!