Colleen Nolan, M.S., CCC-SLP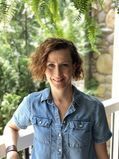 Colleen earned her Bachelor's degree in Psychology from Boston College and her Master's Degree in Communication Disorders from Emerson College. She is a certified speech-language pathologist in the state of North Carolina. Colleen is trained in mindfulness and Core Training in the Masgutova Neurosensorimotor Reflex Integration (MNRI®) method related to the nervous system, trauma-informed practices, and stress hormones. Prior to joining The Ivey, Colleen worked in pediatrics in the area of speech pathology.  Her career has spanned owning a private practice and working in schools, hospitals, and clinic-based settings.   She has experience incorporating equines into speech-language therapy sessions at Shining Hope Farms.
Where were you born and where did you grow up? I was born in Providence, RI, and grew up in a small town just outside of Providence.
Favorite way to spend a weekend or a Sunday afternoon? I love spending time in the garden and relaxing with Brian and our pups.
What excites you about your work at The Ivey and the contribution you make here? I've worked in pediatrics for most of my career. I've thoroughly enjoyed the shift into geriatrics and being able to apply my knowledge and skill set to a whole new population. I enjoy being able to connect with members of the Ivey, listen to their stories, learn from them, and be a witness to their laughter and joy. It is an honor to be welcomed into their lives along their journey!