Flora Warbington, MA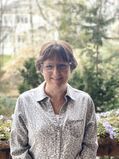 Flora graduated from Davidson College with a B.A. in History.  She later focused her career on working with older adults, earning a M.A. in Gerontology from the University of Northern Colorado.  Flora held management positions with Bee Hive Homes Assisted Living in Colorado and was program director at The Shepherd's Center of Charlotte.  After several years as a stay-at-home mom, Flora is grateful for the opportunity to work at The Ivey with its amazing staff and members.
Where were you born and where did you grow up? I'm a Charlotte native, born and raised less than two miles from The Ivey!
Favorite way to spend a weekend or a Sunday afternoon?  I enjoy spending time with family, friends and my dog, Spencer.  I enjoy trips to the mountains, beach and any professional tennis tournament!
What excites you about your work at The Ivey and the contribution you make here? I'm grateful to work with such an extraordinary team in such a beautiful setting here at The Ivey, and I enjoy building relationships with members and their families.  Starting as a volunteer at The Ivey, I witnessed firsthand the outstanding care given to each and every member.  It's a great place to be!