Jen Lafontaine, PMP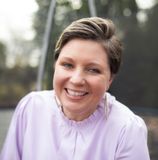 Jen's broad experience comes with great tenure and a wealth of knowledge from business development, program development, and project management roles. She played an integral role in the development, launch, and growth of The Ivey's Respite Club program and Brain Health Workshop series.  Jen brings her project management skills to The Ivey to plan, manage and execute projects. Her education includes a bachelor's degree in communications from NC State University, and she is a certified life coach and professional project manager.
Where were you born and where did you grow up? I was born in Onieda, NY and grew up in Charlotte, NC.
Favorite way to spend a weekend or a Sunday afternoon? Weekends are a way to explore new areas and go on adventures. One of my favorite things to do are day trips or overnight trips. There are so many options that are only a short drive from Charlotte.
What excites you about your work at The Ivey and the contribution you make here?  The families we work with give just as much to my life as the team at The Ivey gives to them. It feels incredible to be a part of a force that gives so much and supports hundreds of families in the community.