Kelly Adams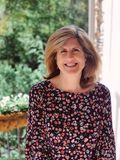 Kelly earned a bachelor's degree in human services with a minor in gerontology. Her experience with the senior population spans 30 years, starting out with calling bingo at a nursing facility at age 14!
Where were you born and where did you grow up? I was born in Michigan and lived there most of my life until moving to Charlotte for my husband's job transfer.
Favorite way to spend a weekend or a Sunday afternoon? I spend most Sundays creating. It might be sewing, painting, cooking or gardening. I also enjoy day trips exploring North Carolina.
What excites you about your work at The Ivey and the contribution you make here? I volunteered at The Ivey for a year before accepting the opportunity to be a part of such a great group of people! From the day I arrived I could see that the members and staff love it here. I want to spend time listening, laughing along with the members and making each day a great experience.