Sabina Zimmer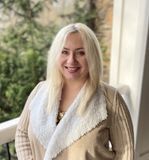 Sabina joined The Ivey in 2023 bringing a wealth of healthcare office administration experience.  Sabina earned a degree in Business Administration and International Trade at the ESCE International Business School in Paris, France. While living in Paris, she was a successful entrepreneur of a business-to-business marketing company.  Prior to joining The Ivey, her experience at Atrium included responsibility for all functions and activities related to the clinic operations, fostering quality in teamwork and leveraging diversity and inclusion in support of quality care.  Through her international experiences, she is fluent in multiple languages. 
Where were you born and where did you grow up? I was born in Poland and grew up in Germany in a Polish-German household. I moved to Paris for college and after enjoying the multicultural experience for 8 years, I moved to Charlotte.  
Favorite way to spend a weekend or a Sunday afternoon? I like to go on weekend trips, discovering the beauty of this amazing country.  I especially love horseback riding and exploring nature in out-of-the-way places. Most of all, I love to spend time with my beautiful daughter Charleigh.
What excites you about your work at The Ivey and the contribution you make here? I fell in love with The Ivey as soon as I first stepped inside the door. The smiling faces of staff, members, families and guests fill me with joy.  The beautiful building is warm, cozy, and filled with peace and happiness.  I'm very excited to be a part of The Ivey's success story,  making an impact in our community and delivering marvelous support to our members and their families.