Tracey Esser, MT-BC, AP-BC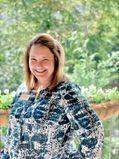 With a B.A. in Music Therapy from Shenandoah University in Winchester, Va., Tracey then completed an internship at Charter Westbrook Hospital in Richmond. She has worked in long-term care communities as an activity director for eight years, and is a board-certified music therapist and activity professional.
Where were you born and where did you grow up? I was born in Lynchburg, Va., and grew up in the Shenandoah Valley of Virginia and Amherst County, Virginia.
Favorite way to spend a weekend or a Sunday afternoon? Relaxing with family and friends.
What excites you about your work at The Ivey and the contribution you make here? My passion is bringing joy to others.