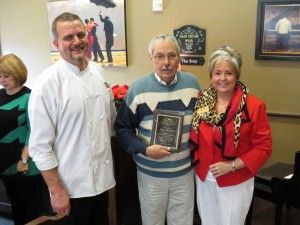 Recently, I had the distinct pleasure of honoring a dear friend of The Ivey in a special way.
The Ivey's official volunteer program has been newly named The Barretta Circle – its name inspired by Tony Barretta, The Ivey's longest-tenured volunteer. And I was the lucky one who got to surprise him with this awesome announcement at our Volunteer Appreciation Luncheon!
Tony has (and always will) hold a special place in my heart. He has diligently and selflessly donated his time to The Ivey for many years now, serving as the right-hand-man to our executive chef, Andy Brown. Having run a café of his own before, Tony's volunteer work here is well suited to his interests. From peeling potatoes to dishing out soup, his donation of time to help our staff and members brings him a special joy.
He'll also be the first to tell you that "retirement is overrated" and that you should spend your time doing something you feel good about. "The Ivey is that for me," he likes to say.
This year, we're looking for more Tonys! Well, he could never be replicated, but we do have a goal of dramatically increasing the ranks of volunteers here at The Ivey. Of course, you don't have to be retired like Tony in order to volunteer your time. And guess what? There's something in it for you, too! Consider that:
• We humans are fundamentally wired for meaning, making volunteering a radically life-enhancing practice.
• We humans flourish as we live into our capacity to relate to others.
• We humans are capable of relating to others with deep curiosity, empathy and respect; it is this manner of relating that is vitally enriching to all of us. Volunteering as a practice provides an opportunity for this more meaningful relating.
Just a few days ago, I witnessed a beautiful example of friendship, meaning and purpose in life that occurred when a friend gave the gift of his time to another friend. One of our members was celebrating his birthday and became very sad that he could not remember his age. His sadness was evident from mid-morning up to lunch. I called a close friend of mine who has known this member for a long time and asked him to come visit with the member for lunch. He was there in a flash. The staff and I noticed an immediate, remarkable change wash over our member as he recognized his friend. Both began relating to each other with deep affection and respect. Clearly, the time spent visiting and relating was deeply enriching for both of them.
Volunteerism is just as good for the Giver as it is for the Receiver. In fact, donating your time for a cause that you care about can help make you:
• Happier – acts of kindness raise your levels of serotonin, a natural chemical in your body that is responsible for improving mood.
• Healthier –volunteering has health-promoting benefits, such as lessening symptoms of chronic pain and heart disease.
• Wealthier – for some, wealth is not measured in dollars.
• Wiser – from providing you with new perspectives on life, to diversifying your friends and social circles, to cultivating gratitude for your blessings, there are few activities that allow you to grow mentally, emotionally and spiritually as a person like volunteering.
So, what are you waiting for? We have many fun and valuable opportunities for you to serve our members! If you or someone you know would like to volunteer time with us each week, please contact Jen Sexton at [email protected] or 704-909-2070.
Got a comment? I love 'em! [email protected]">Email them here and I'll read and reply.