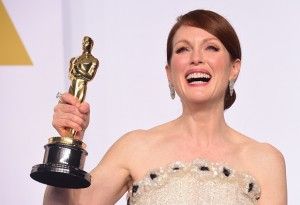 As you've probably heard by now, Julianne Moore won the Oscar for Best Actress last Sunday night, for her breathtaking turn as a woman facing down Younger Onset Alzheimer's disease. It is an amazing achievement for a talented actress with an already-esteemed career.
Her acceptance speech added more fuel to the national conversation that she and everyone involved in Still Alice have ignited. With golden statuette clutched, Moore said, "So many people with this disease feel isolated and marginalized. One of the wonderful things about movies is that it makes us feel seen and not alone. And people with Alzheimer's deserve to be seen, so that we can find a cure."
Indeed, it is about being seen. And heard. And understood. And making a difference. When I blogged last month about Meryl Comer's new book, I asserted that the time has long come for us to be open books ourselves – to lift the veil and drag our personal experiences with Alzheimer's out into the light. This is how we will support each other. This is how our loved ones will feel seen. This is how we will know that we are not alone. This is how we will develop new ways to treat, slow down and stave off the disease, hopefully and ultimately discovering a cure to end it once and for all. This is how we will make a difference in this life.
In this spirit, I want to again express my sincere thanks to a few of our member families who have recently spoken with the local media about their journeys. Their courage to become open books for the sake of others who are in the same situation is inspiring and makes a difference. As I participated with them in their interviews, it was heartwarming to hear their special stories. The honor and dignity with which they handle their challenging situations of living with loved ones who live with Alzheimer's, is nothing short of amazing. I am honored to be a part of their extended family and to walk on their journeys with them.
It's movies like Still Alice, the book that sparked the movie, the book by Meryl Comer, and our own membership of extraordinary people who live with Alzheimer's – not to mention their families who love them – that make me so proud to have been able to make a difference, too. Thank you for giving me that honor. It is a gift.
Got a comment? I love 'em! Email them here and I'll read and reply.