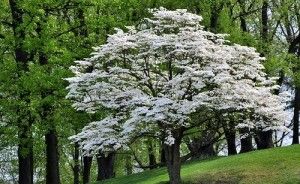 What a gorgeous week in our city of Charlotte! We're officially into spring now, and if puffy white clouds seem to be hovering ever-so-closely to the ground these days…well, you're likely catching glimpses of our famous blooming dogwood trees.
Of course, the dogwood is our beloved state flower (Trivia Alert! It has enjoyed this prestigious standing since 1941.) But for this native Carolinian, it's also a thing of mystery and nostalgia. There is just something about this amazing tree that triggers my heart and mind.
Case in point: I was driving down Sharon Lane, where a long line of dogwoods were showing off their brilliant white blooms. I found myself feeling grateful; wistful; energized; introspective; and perhaps even a tiny bit melancholy. Clearly, if you're open to it, nature's beauty can be an impressive emotional stimulant.
Then it occurred to me that I see a similar beauty every day, in the faces of The Ivey's members. Where was this connection coming from? I was compelled to dig deeper; I wanted to know more about the dogwood, and why it was reminding me so much of my ongoing experiences at The Ivey. Enter, The Google…
• The showy petals of the dogwood "flower" are actually modified leaves. The real flowers are the small, growths at the center of the bloom. My inner-poet was moved! To me, our members are the true flowers in our lives, surrounded by all of these beautiful "petals" – family, friends and our caring staff – designed by nature to protect and serve them.
• Legislators noted the dogwood's omnipresence throughout the state when they bestowed it with its "state flower" status. Our state has a similar profusion of people living with Alzheimer's or other types of memory loss. From the mountains to the coast, they are growing in number, and deserving of our awe, our attention and our resources. Furthermore, the abundant dogwood tree is quite susceptible to numerous diseases. So strong in number, yet so fragile – just like the seniors we serve. It was a great reminder of how crucial our roles are in keeping our loved ones safe and healthy.
• And there's another uncanny, if regrettable, parallel: we only seem to notice the dogwood in early spring, during its extravagant show. But in truth, they're always here, always beautiful. It reminded me of certain family situations we see, where the senior is only paid meaningful attention on birthdays or holidays. I wish I could convince those families how lucky they are to have access to their loved one's beauty all year long! The dogwood may adorn our streets and lawns with dazzling white in the springtime, but it also puts forth stunning green foliage in the summer, orange-scarlet leaves with clusters of red berries in the fall, and artistic silhouettes against the winter sky.
So, enjoy the dogwoods this week. But remember: it's not a fleeting thing. Like a loved one still with us, they are here to be enjoyed, admired and loved every day.
Got a comment? I love 'em! Email them here and I'll read and reply.