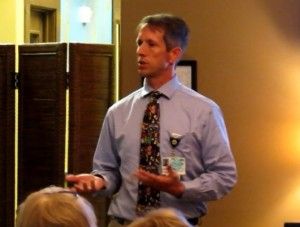 This past Tuesday evening, we were honored to host Dr. Jonathan McKinsey, chairman of the Department of Psychiatry for Carolinas Medical Center-Northeast, as our special guest speaker at The Ivey's Community Education Program. We know Dr. McKinsey well because some of our families have needed the services of his unit during their loved one's dementia journey.
That night, in a room packed with Charlotte's community of families who have loved ones living with dementia, we all benefited from his expertise about how to handle difficult behaviors associated with the disease. We learned from real world examples about why certain behaviors happen, both physiologically as well as emotionally. His relatable examples were sprinkled with humor about his childhood growing up around seniors (as his mother was the Executive Director of a nursing home in Florida, and his precious grandmother lived with dementia in his home).
Our audience called his talk "extraordinary." They were glued to their seats for the entire 2.25 hours, and as they engaged Dr. McKinsey with their many questions, his wealth of information became even more impactful for everyone in the room.
For me, the most exciting part was hearing this revered medical expert speak the same language as we do here at The Ivey:
1.) the "person living with Alzheimer's," not the "Alzheimer's patient" – in other words, just because you are living with a disease doesn't mean that you ARE that disease;
2.) the importance of communicating with the entire family about the disease process as it progresses and his commitment to doing so with every patient's family – because it really is a whole family disease, and effective management requires whole family support;
3.) the importance of a multidisciplinary approach to care – managing this disease requires both a pharmacological and non-pharmacological approach to balance the health and personal care needs with the mind-care needs of the whole person living with dementia;
4.) the importance of seeing the humor in dealing with the disease and the lifelong learning opportunity that comes from taking part in the world of someone living with Alzheimer's or dementia – indeed, our loved ones can still teach us lessons if we listen and pay attention.
With great pride, I felt affirmed that The Ivey's philosophy and approach to care, life enrichment, a nurturing environment, and whole family support is indeed the best solution for memory wellness.
Having Dr. McKinsey at The Ivey feels like we have a new member of our family. Common passions. Shared values. And the unwavering conviction that behind the disease is a unique human being, who we love, who we respect, and who deserves to be treated with boundless dignity.
We are proud to serve alongside him.
Got a comment? I love 'em! Email them here and I'll read and reply.