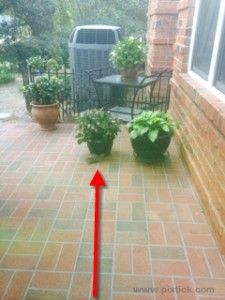 If you are reading this blog, you no doubt realize that I believe the Universe conspires to give us messages that help guide our everyday lives. We only have to pay attention to the signs.
Latest case in point: an Eastern Box Turtle, likely 7 or 8 years old, who somehow made his way up onto my back patio this week.
Mind you, there's not a creek or body of water anywhere near my house. Wherever he came from, this little fella was determined to seek me out. My dog Lacey was as mesmerized as I was by this unusually beautiful creature.
At first, I was more concerned about how I was to help this beauty find its way back to its hiding place and get some water. (My initial idea was to fill one of Lacey's bowls with water…then I laughed at the thought of a turtle drinking water from a dog's bowl!) Then I stopped to contemplate the bizarre-yet-inspirational meaning of a turtle walking across my patio at 6:50am in the bright beautiful sunlight of early morning. As the little guy was heading off, I went off to the internet to learn more about the significance, and to enjoy a few moments of self-reflection.
Of course, now I'm dying to share with you what I've learned!
If a Turtle has crossed your path, "he is usually giving you the message that slow and steady wins the race," one website says. "Pay attention to details in your current project and take your time with it. Don't be tempted to skip steps or take short cuts…Just trust in the process and stay in the moment."
This is wise advice for all of us. Whether you're running an organization, running your family, or caring for a loved one living with memory loss, we are faced with challenges and complexities each and every day. It's important to slow down and take everything at its own pace. By doing so, you can catch your breath, take your next steps with more confidence and intention, and realize innovative solutions.
The Ivey has become one such solution for many Charlotte families. By allowing us to care for their loved one during the day, the family caregiver has the opportunity to slow down, maintain a healthy pace, and continuously rejuvenate for the long dementia journey. And the sooner they partner with us, the better for everyone.
Another benefit of slowing down: you'll be able to pay attention to the world around you, and you'll have a better chance of noticing the signs that show up just for you, just when you need it! As when the graceful owl perched outside my office window at The Ivey last November, I don't subscribe to the idea of coincidences. Knowing that life is full of synchronicities and signs from the Universe, I knew right away this week's beautiful turtle was a sign for me to stop and pay close attention to all the extraordinary wonders occurring in my life, both personally and professionally, right now for me.
So walk your path with peace, patience, emotional strength and grounded determination – even amidst the chaos of life. That's the way of the turtle. And it's something that certainly resonates with every family we work with at The Ivey.
Thanks for the perfectly-timed message, my hard-shelled new friend!
Got a comment? I love 'em! Email them here and I'll read and reply.