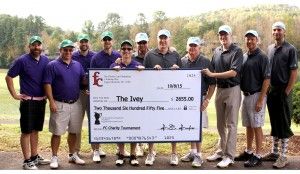 A few weeks ago, a group of friends headed westward toward Asheville. They were en route to their annual tradition: a golf tournament in the beautiful mountains of North Carolina. The name of their yearly event is "The For Charity Golf Tournament."
What's great about this affair is that they choose a different charity to raise money for each year. Usually, they identify a charity to which one or more people in the group have a connection. For their 2015 tournament, they chose The Ivey.
Their personal connections to The Ivey are varied. Don Olin is The Ivey's board chair and also runs our weekly "golf breakout group" with our members. Matt Olin is a member of our marketing team. Patrick Keenan's sweet mother was a former member of The Ivey. And nearly all of them know someone in their family or network who is living with Alzheimer's or some other form of brain failure.
What I love about what they do is the way it underscores that giving can be fun. In fact, it should be fun.
President Bill Clinton once said, "…when we give what we can, and give it with joy, we don't just renew the American tradition of giving, we also renew ourselves." This suggests that the pure act of giving, alone, feeds our happiness in a uniquely powerful way.
But then, when we double-down on the fun – by joining together with the people we enjoy, by combining the fundraising with an entertaining activity, by focusing our efforts on a cause that we all believe in – that's when the happiness quotient starts to multiply exponentially.
When they returned from the mountains, we accepted their generous check with huge smiles and grateful hearts. Moreover, I'm hoping more and more people follow their lead by being proactively creative in doing good in our community.
So gather with some friends, have some fun, raise some funds, and then give it all away. You'll feel amazing, and you'll change lives. And nothing feels better than that.
Got a comment? I love 'em! Email them here and I'll read and reply.