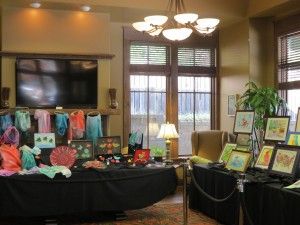 Recently, The Ivey's first-ever "pop up art gallery" was in full force in our front library. For five full days, the room exhibited beautiful pieces of art created by the hands, hearts and minds of our members – and some originals and reproductions were also for sale in our "gift shop."
This remarkable collection of work was created by our members in weekly Art Therapy sessions – a big part of our multidimensional Life Enrichment program. Led by art educator and professional artist Lela Kometiani, our members regularly roll up their sleeves and dive into fun projects that encourage creative self-expression through painting (especially watercolors), clay work, glass painting, silk painting, and more.
And when you pour this much heart into your art, it certainly deserves to be shown off!
I absolutely loved watching our members walk into "the gallery" throughout the week to see their own gorgeous work and the work of their friends on display. It was equally powerful to witness their family members tour the gallery at the beginning or end of the day, as they would see for themselves the creative energy and vivid artistic expressions alive and well inside of their loved one living with dementia.
As I've said before, we are big advocates of Dr. John Zeisel's dementia care philosophy, outlined in his book I'm Still Here. It's why we use evidence-based activities such as those built into our Art Therapy program to actively leverage our members' existing strengths, promote cognitive stimulation, encourage socialization, and slow down the progression of the disease.
But something else vitally important was represented in that pop-up gallery. Something more than the clear benefits of Art Therapy for cognitive function, sensory stimulation, fine motor skills, therapeutic movement and blood flow to joints. Something that extended beyond all the science.
What was truly on display was the beautiful humanity of our members. Each of them with life journeys to recount, personalities to share, and talents to admire. They have many thoughts and feelings and opinions to express. And art is one way for that dialogue to happen. When they apply a brush stroke to a page, or mold a lump of clay with their hands, or draw a figure with a pencil, they are communicating with us. Sharing who they are. Speaking their truth. Giving us the gift of themselves.
And as they say in the gallery world: that is priceless art.
Got a comment? I love 'em! Email them here and I'll read and reply.