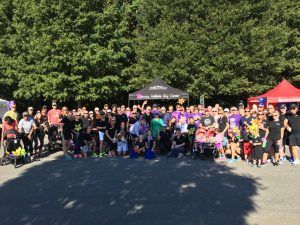 Did you see the size of The Ivey's walk team for the 2016 Walk to End Alzheimer's on September 24th? If you have previously "Liked" The Ivey on Facebook, then you might have seen the photo that we posted. It was huge!
132 walkers, and unprecedented family participation! Indeed, we broke all of our prior records, both for participants and fundraising. And that felt great!
But perhaps even better was the undeniable feeling of family that hung in the morning air that day. All around The Ivey's pre-walk tailgate tent, families, staff and volunteers were buzzing about – not just enjoying the coffee, juices and breakfast foods, but also enjoying each other. Hugs were distributed liberally. Smiles and hellos were abundant. And many stories and words of encouragement were shared.
Then, as I wandered around the rest of Symphony Park, I was struck by the larger sense of family at the event. Everyone rallying together around a cause that touches us all in some way: the defeat of Alzheimer's disease.
The following week, I attended an Alzheimer's Symposium hosted by Charlotte Neuroscience Foundation. Its keynote speaker was Kim Campbell, wife of famous musical artist Glen Campbell, who courageously decided to publicly share his battle with the disease.
The close timing of these two important events – the Alzheimer's Walk and the Alzheimer's Symposium – got me present to how important it is to have such a variety of cause-focused initiatives fulfilling different needs into our community. One is focused on finding a cure, and the other is focused on addressing caregiver issues. Both are vital.
As I have been reveling in feelings of family lately, I'm so glad that this "extended family" of ours has these outlets and resources. I'm also proud that The Ivey plays its own special part as a significant resource to families throughout the greater Charlotte area.
It's all part of our area's "dementia care ecosystem," and the more we participate and take advantage of it all, the better.
Got a comment? I love 'em! Email them here and I'll read and reply.