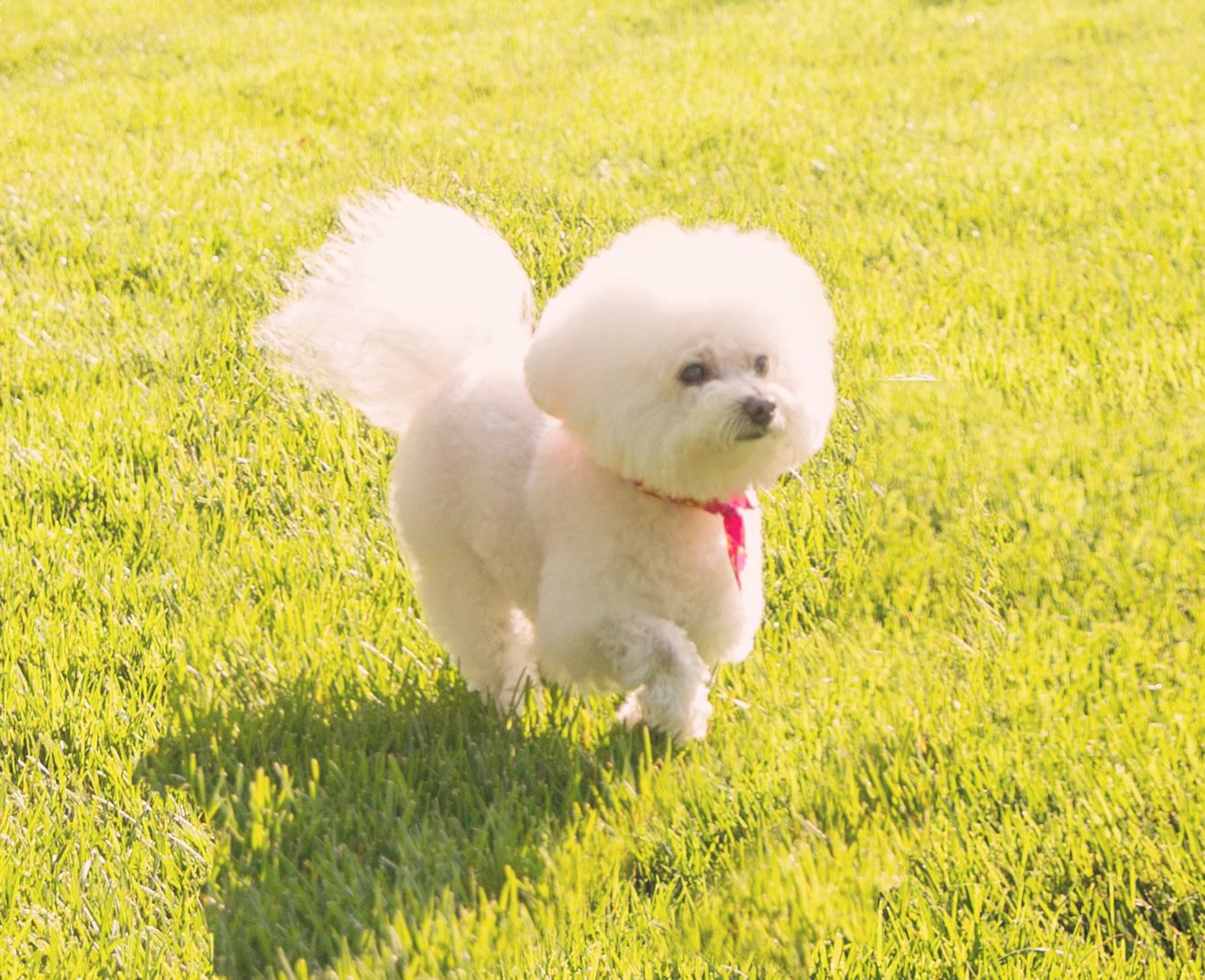 On Saturday 5/5, at 10:00 AM, John and I said good-bye to our beloved little 14-year old Bichon, Lacey.
She had a stroke three weeks ago. Our vet got her into the neurology specialists at Carolina Veterinary Specialists in Matthews where she had been recovering since then. Each day, we saw glimpses of some improvement in her walking, enough to give her doctor and team of caregivers…and us…hope for recovery. We visited night and day to hug, kiss, and give her fresh air outside. But as last weekend approached, it became obvious that she was tired and did not have the fight necessary for a much longer recovery – one that, in reality, might not even happen.
So, I tell you this because I want you to know about my Lacey, the CO-FOUNDER of The Ivey!
Lacey had been "on staff" since the very beginning. In 2007, she graced our sales office across the street while the building was under construction. Once we moved in, she used to be here all day, every day, sleeping under my desk until she found her purpose: taking advantage of her newfound freedom to occasionally leave the office and go sit in the laps of the members, lick their hands or chins, and help Andrea clean up the dining room floor after meals!
When I was working on weekends, she would sneak around to the Activities Office where our Activities Coordinator, Kelly, would keep bags of candy on the lowest bottom shelf; she'd then stealthily unwrap each Hershey's candy, leaving the evidence behind for Kelly to find on Monday! She was known to be a high-jumper, hopping up on chairs in the conference room to get to the candy dish in the middle of the conference table. Ever the connoisseur, she would diligently pick out the good stuff, forgoing the individually-wrapped Life Saver mints for someone (anyone) else. Although we encouraged our administrative staff to put their unfinished lunch plates high up on the counter if they had to leave their office, one day, Beverly left the office briefly, only to return to an empty plate on her desk and a whining dog too afraid to jump down on the chair to get off the desk!
She served as a warm greeter in the lobby, welcoming people as they entered and never trying to escape. (I guess the treats were just too good!) Several staffers – Wendy, Carey, Eileen M, and others – took turns walking her out back to sniff around and leave her messages on the hallowed grounds.
Yes, this little Lacey of ours was part of the founding and christening of The Ivey.
I believe Lacey became such a part of this organization because, in many ways, she was the canine embodiment of so much that The Ivey values and provides. She was loving, playful, dutiful and respectful. She was always there with a warm snuggle whenever needed. She knew when to have fun, when to rest, and when to focus on the task at hand. She brought happy smiles to faces, nostalgic memories to minds, and welcomed connection to hearts.
She will live on here. Perhaps one day, as I work at my desk, I'll even swear to hear her little nails tapping away as her sweet spirit prances down the hallway.
And I will miss her dearly, every day. Farewell, Co-Founder & Friend.