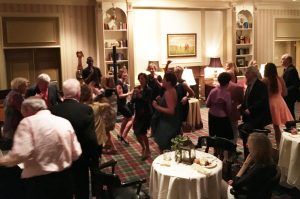 This past weekend, John and I invited all of The Ivey's Board, staff, volunteers, and spouses or significant others to join us at Carmel Country Club for a "post-wedding celebration." We were limited as to how many people we could invite to our wedding, so we decided to host a more intimate event for this special family to whom we feel so close.
And I use that word – "family" – quite deliberately. Because that's exactly how we feel about them.
The vibe at the party was unquestionably familial, too. As I looked around the room at the conversations, the laughing, the dancing, the hugging and all the "group selfie taking," it actually felt like I was at a big family reunion.
When I think about it, it's pretty amazing. These are people who work with each other five days per week. From my experience, most employees don't choose to spend their "down time" with the same people who are by their side each and every workday. But there's something different about The Ivey team.
Maybe it's because we are in the business of supporting whole families. We work hand-in-hand with each other, with our members, and with the families who have entrusted their loved ones to us. It's just the kind of special work and unique experience that binds people for life.
Whatever the reason, we are a family. That's a big reason why The Ivey is such a special place. You can sense that love in the air, hear it in the calming voices of our care staff, feel it in the warm touch of their guiding hands.
As we ended the party with all of us dancing and singing to "We Are Family," it felt, well, just right.
Got a comment? I love 'em! Email them here and I'll read and reply.