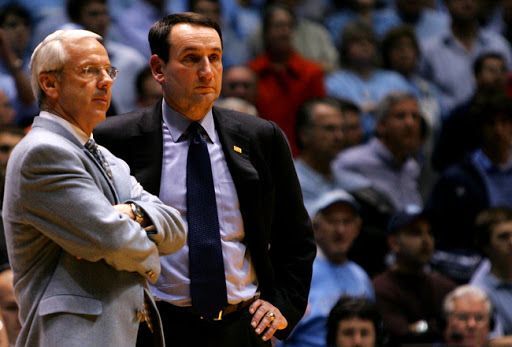 To borrow from a recent blog I was reading about college basketball in North Carolina: "Anyone who hasn't lived under a rock over the past week now knows the big news.  Duke Head Coach, Mike Krzyzewski announced his retirement after 47 years coaching basketball, 41 at Duke."  Tar Heel fans may rejoice.  Blue Devils fans are crushed.  The entire sports world is stunned. 
Pardon me non-Duke fans or non-basketball fans but here's what some are saying:            
"It's the end of an era." 
"His legacy walks with a swagger fit for kings.  He embodies what it means to be a true Duke Blue Devil:  a ferocious and tireless competitor and a storied champion." 
"He'll be able to eat for free in Durham for the rest of his life; things will be named after him at Duke for decades; Duke basketball is a massive institution and it's been built almost entirely on his back." 
Coach Roy Williams (former UNC basketball coach), who announced his retirement just 2 short months ago had this to say: "Mike's been fantastic for the game of basketball, for college basketball, for the ACC, for the greatest rivalry in sports (Duke-North Carolina basketball).  He's a good friend, a guy I've respected a great deal, and someone who made everyone bring their A-game for years and years and years." 
Like The Ivey, lives and businesses over the past 15 months pivoted, evolved and forever transformed, many for the good of a new chapter.   College basketball in North Carolina is no exception.   After Coach K leaves basketball for good at the end of the 2021-2022 season, a new chapter begins as the transformation of that short road between Durham and Chapel Hill known as Tobacco Road is complete.  The legacies that both Mike Krzyzewski and Roy Williams leave for basketball fans, teams, institutions and the people who remember them are positive and transformational. 
And isn't that what we all want, to leave a positive impact in the world and on those with whom we meet?   
At a memorial service I attended this past Friday, I listened to many powerful tributes about the deceased person and the legacy he leaves.  One really stood out: "People don't remember what you do, or what you say, but how you make them feel."  
Or in my words, it's not about the "what" but about the "how".  Think about it.  I will!
Got a comment? I love 'em! Email them here and I'll read and reply.   
Please follow us on Social Media:  Facebook, Instagram and Linked In