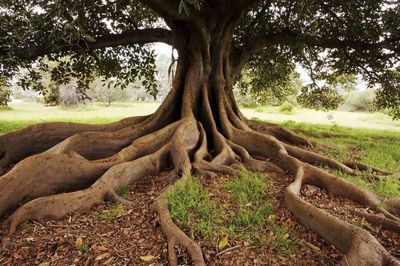 The recent condominium collapse in Surfside, Florida was absolutely tragic and heartbreaking.  Every possible survivor is a miracle so I continue to follow the news with great expectations and hope. 
The condo collapse prompted me to pause and think about foundations… the many different types and meanings of foundations… and how they impact our daily lives.
Foundations are all around us, both seen and unseen. 
There are obvious ones we see…structures we enter, from condos to homes, shopping centers to skyscrapers…all must be built on a strong foundation and adhere to the strictest of guidelines to keep us safe. This is why building codes and inspections exist and why addressing necessary repairs are paramount. 
There are not-so-obvious ones we don't see…root systems of trees for example.   NC's pine trees have shallow, weak roots that don't grow deep into the ground.  Charlotte's majestic oak trees, on the other hand, grow deep into the ground and are generally very stable.  Like structures, inspections and necessary repairs to our trees and root systems are also paramount so their foundations can remain strong, even when Mother Nature strikes.  
What about the foundations in our own lives…the ones that keep us strong and upright even under pressure? What roots do you grow in your life that keep you strong?  
Foundations of love, trust, faith and values found in our families, friends, and other important relationships
Foundations of a great education from schools and colleges, meaningful work, steady jobs, and even the wisdom we gain from life experiences
Foundations of healthy habits in diet, exercise, sleep, mindfulness…the ones that keep our brain and body healthy and functioning throughout our life
The Ivey sits on a strong foundation.  Our building has regular 'check-ups' and always stays in excellent working order, looking beautiful, clean, warm, and inviting.   Our unseen foundation is equally solid, as evidenced by our mission, our staff, our members and their families, our 13+ years in operation, and our fervent commitment to memory wellness and brain health.
Foundations and roadmaps chart the course of our lives. They all work together to develop our inner strengths, helping us lead fulfilled and productive lives.  Yet as witnessed in Florida's condo collapse, foundations can break down, accidents can happen, and life can change in an instant. 
 So, check in with yourself and prioritize inspections and/or repairs of your own foundations.
Got a comment? I love 'em! Email them here and I'll read and reply.   
Please follow us on Social Media:  Facebook, Instagram and Instagram