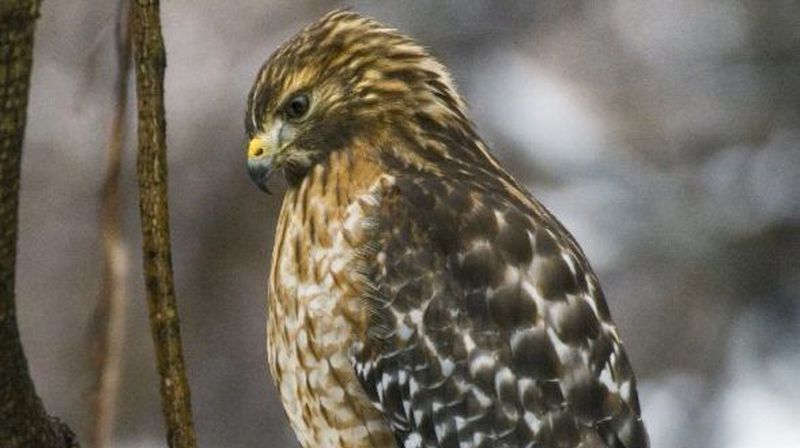 So let me tell you what happened at my house a few weeks ago.  With my keen eye for spotting owls and listening out for their intuitive messages, what was I supposed to think when a HAWK flew into my GARAGE?!  This was a first for me, so I knew I had to pay close attention.  Was the hawk sending me a new symbolic message?  If so, why now and what was its underlying message?  Was there a direct correlation between the owl and the hawk?  For nearly 15 years, it's been the owl sightings which have provided a powerful source of excitement, strength and wisdom for me, so why, all of a sudden, did a hawk make its presence known in such a demonstrative way?  I had to find out!
            In my research, a few tidbits spoke to me:
"Seeing a hawk means you are protected.  Seeing a hawk means you are getting a flow of ideas like a hawk does while it is flying on the wind.  Seeing a hawk symbolizes a creative being and means that you are on the right path in life."
"Hawks soar high in the sky and have the ability to view all of life from this perspective.  Therefore, they represent the ability to look at the big picture and not get too wrapped up in the petty details of things."
"Hawks represent an ability to lead others and take initiative.  With their laser-like focus, hawks are associated with strong visions and seeing things clearly."
The fact that the hawk appeared in my garage made the encounter even more profound.  I didn't see its impressive wingspan flying high and free above the trees.  I didn't see it proudly perched on a tree limb.  Instead, I saw it down on the ground, on my level, in an area where 'things' are collected and stored... quite frankly, an area that most of us avoid and where we let clutter and dust collect, and perhaps the very last place a hawk would want to be.   
Indeed, it was a very clever and unique way of declaring messages to me in the most powerful and direct way… as if the bullet points listed above were being spoken to me in bold print, all caps, underlined, and with multiple exclamation points at the end.
After much thought, I realized that the message was most likely affirming my strong vision for The Ivey, exactly one successful year after reopening in the midst of the pandemic.   Like a hawk, the flow of ideas comes easily for me, but sometimes I question if I am on the right path. With The Ivey's new Brain Health Solutions workshops set to launch next month on Fridays, I think the hawk's message was indeed affirmation that this is the right path for my life and that of The Ivey.   
I can't wait to make a difference in the lives of my fellow Charlotteans who join me in learning how to keep our brains sharp ensuring that we can age healthy and well!!  To join me in this new venture, look for invitations coming soon to your mailbox and email address or click now to register for free information sessions scheduled on September 10 and September 17.  Let's fly high together!
Got a comment? I love 'em! Email them here and I'll read and reply.  
Please follow us on Social Media:  Facebook, Instagram and Linked In