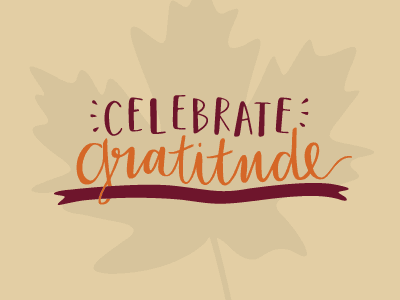 How many milestones in your life do you celebrate? Many people mark only birthdays and anniversaries. It's actually important that you celebrate everyday of your life.  The celebration is really about being grateful for someone or some thing. 
Last Friday, The Ivey celebrated its FIRST graduating class of our new Fridays-At-The Ivey Brain Health Workshops!  With Pomp and Circumstance playing, graduation hats donned, certificates, and a march across the floor when each name was called, there was so much joy on everyone's faces.  Laughter, hugs, and streaming tears demonstrated the extraordinary connections made over the previous 8 weeks in class. The entire staff of The Ivey celebrated alongside everyone as we raised a plastic champagne glass of Prosecco.  So much gratitude filled the halls of The Ivey and our hearts were so full.  That great feeling has remained in all of us and it got me thinking…yet again. 
This year, we get to celebrate Thanksgiving with family and friends.  Last year, we couldn't due to the COVID pandemic.  How cool is that?  How grateful are we for this opportunity? VERY!  My hope for all of you is that you will have a fabulous celebration next week as you gather with friends and family.  Enjoy, party, celebrate, have a good time, and BE GRATEFUL!  
Kool and The Gang said it best in their iconic song, CELEBRATION:  "It's time to come together…a celebration to last throughout the years….cause everything's gonna be all right". Read the lyrics below and Click Here to listen!  
Happy Thanksgiving! 
Celebration good times, come on
It's a celebration
Celebration good times, come on
Let's celebrate
There's a party goin' on right here
A celebration to last throughout the years
So bring your good times and your laughter too
We're gonna celebrate your party wlth you
Come on now
(celebration)
Let's all celebrate and have a good time
(celebration)
We're gonna celebrate and have a good time
It's time to come together
It's up to you, what's your pleasure
Everyone around the world, come on
We're gonna have a good time tonight
Let's celebrate, it's all right
It's time to come together
It's up to you, what's your pleasure
Everyone around the world, come on
Celebration good times, come on
(Let's celebrate)
Ohh ohh
Celebration good times, come on
Celebration good times, come on
(let's celebrate)
Come on and celebrate tonight
'Cause everything's gonna be all right
Let's celebrate